If you are a homeowner unhappy with the appearance of your kitchen or bathroom cabinets, you deserve more. Often, people will find themselves dissatisfied with the state of something in their home and do nothing about it for years. Allowing your cabinets to peel, fade, and deteriorate is a bad look for your residential property. Attacking the problem is mandatory, but you don't need to complete a tear-down to achieve the look you are striving for. People often attempt to redo their cabinets with cabinet replacement completely.
This practice takes weeks and leaves your home in disarray during that time. After the job's completion, there is no guarantee the cabinets will come out the way you hoped. With Chameleon Cabinet Coatings, our team can help you change your house with cabinet restoration. Our cabinet restoration is certified by our seven-step process, as industry professionals complete the work. Chameleon Cabinet Coatings offers a fresh look for any homeowner trying to make a change in their life. With cabinet restoration, customers are sure to be satisfied.
Cabinet Restoration is a process that might seem daunting, but in reality, it is a necessary practice for any homeowner. Unlike cabinet replacement, cabinet restoration takes a week and will show improved results immediately.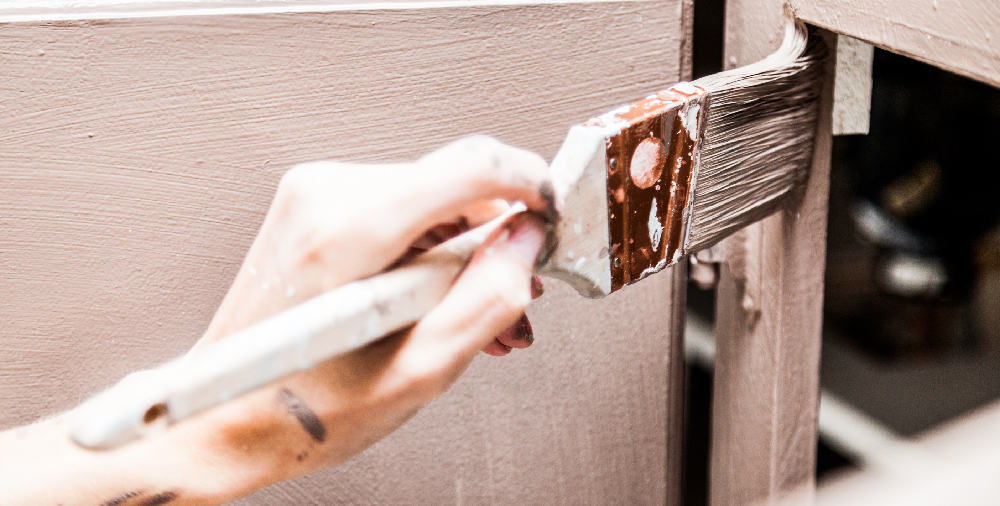 The Process
Cabinet restoration involves refinishing your cabinets. Our seven-step process has proven to work very effectively for many homes. First, we will remove your cabinets and empty your belongings into large bins. Then, we take your cabinets back to our workshop, where we power and hand sand the appliance's surface, making a smooth finish. We then resurface them with a new coating, and if you desire, we will paint the cabinet. After the workshop, we will spend one to two days reinstalling your cabinets in your home. This time is spent removing grease and caulking gaps in the cupboard. We then install bumper pads and fully reinstall your bathroom or kitchen cabinets. After this, your cabinets are fully restored and ready to look good.
More About Restoration
Cabinet restoration is a practice that works. Unfortunately, cabinet replacement costs a lot and doesn't always come out as you expected. With restoration, these are your same cabinets, only vastly improved. Painting and refinishing your surfaces is a sure way to revamp the look and feel of your cabinets from lifeless to powerful.
Why Choose Chameleon Cabinet Restoration
As Pennsylvania's most celebrated cabinet restoration and refinishing company, Chameleon Cabinet Coatings should be your first choice for home improvement. We service various locations, including New Jersey, Delaware, and Maryland. Our team is trained and ready to service your home with the utmost care and consideration. Chameleon Cabinet Coatings only uses the best materials and products when completing our restorations, ensuring a job well done by our crew. On the off chance of any problems, we offer a three-year warranty for painting and refinishing installations, just so our customers have peace of mind. Chameleon Cabinet Coatings is a family-owned and operated business committed to building relationships with our customers. Customer satisfaction is our main concern during installations, as we want to ensure our clients' questions and concerns are put to bed. Additionally, our cabinets are easy to clean and maintain after the installation's completion, making it easy for homeowners to continue to have lovely cabinets for years.
Get a Free Quote
Chameleon Cabinet Coatings is the best option for homeowners in Pennsylvania, Delaware, Maryland, and New Jersey trying to improve their kitchen or bathroom cabinets for years to come. There is no reason to hold onto a style or appearance that doesn't work for you anymore. With Chameleon Cabinet Coatings, we can promise a look that will alter how you feel about your cabinets. Our team doesn't want to charge prices that will break the bank and make this project stressful. Instead, we will initially levy a price point that meets our customers' needs. Chameleon Cabinet Coatings will always be transparent with our customers, no matter the situation. Chameleon Cabinet Coatings won't stop working until the job is done right.
For your free quote, visit our website or call us at (717)-431-6440 or at (610)-343-1504.